Several months ago I was approached on Etsy with a request I couldn't turn down. My style of crochet is fairly simplistic, I stay within my little 8-bit world and my black backgrounds. Occasionally folks ask me to do some pretty crazy things, portraits, PlayStation level graphics game throws, blankets with dozens of conflicting elements and characters, Harley Quinn… hmm. Usually I give the same response, I explain the simplistic nature of my skills and how difficult it is for me to branch outside my 8-bit universe. Something seemed fun about taking on Harley though, so I foolishly took the challenge.
I took this order in the midst of my busy season, this being my first year with a fully stocked store and steady business, I didn't know that my busy season wasn't over yet. Last time I put up a few items that sold out for Christmas, then it was over. I had a week long lull after the holidays and then out of nowhere a completely new surge of orders, among those was Harley Quinn. I wasn't prepared to keep working through to the Summer, I hadn't even started my many wedding crafts that I have planned (still haven't). The closer I got on my order list to Harley, the more stressed I became. I asked my customer if it was ok to finish all my other work before concentrating on Harley, this way it had my full attention and was executed correctly. She sent me the most encouraging emails throughout this difficult process. At times I literally sat staring blankly at my computer and sketch book tearing up and having panic attacks. I had no idea what I got myself into. I even went as far as to purchase a cross stitch pattern, boy was that a dumb idea… complete gibberish. I was ready to throw in the towel, what kept me motivated was this amazingly understanding customer of mine, who if she didn't live states away I would hug. If I had any other type of customer, perhaps one that wasn't caring and treated me like a crochet monkey and sent me impatient emails (I get tons of those) I would have quit. I'm glad this wasn't the case.
Terrence saw how stressed I was and made computer magic happen, he did something in my photo editing program that turned this image into a 16-bit one.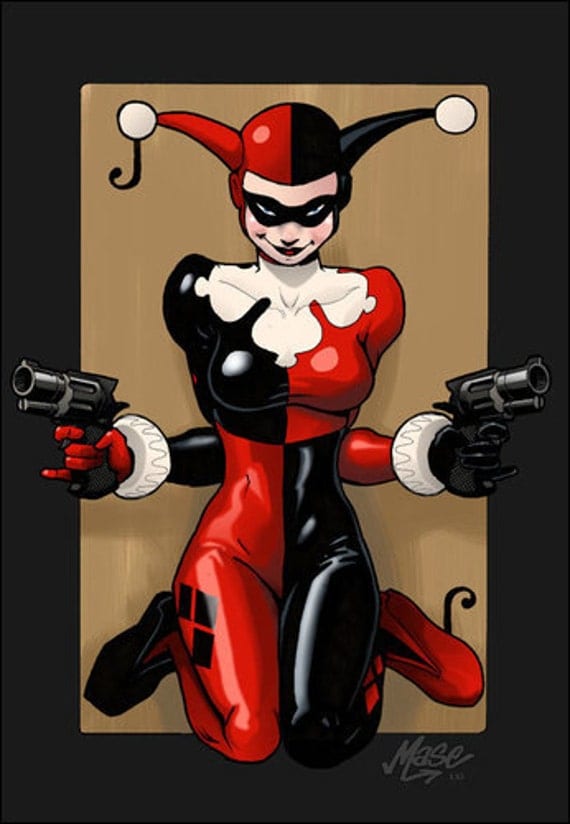 After that I was able to hit my stride, it took me over a week to do the sketch. My 8-bit sketches usually takes me a day or two, if I procrastinate. Hunched over the laptop, sharpening my pencil down to a nub, I went to bed each night cross-eyed and achy. But this was the fun part, I was enjoying the process. I received a ton of encouragement from Terrence, my mom (always) and my girlfriends. Once I started the actual crocheting part it was a breeze, it took me about 3 weeks to complete stitching Harley. I worked quickly and excitedly each day, knowing that I was creating something for an awesome person only made the work more rewarding.
I see many flaws in this blanket, I'm my own worst critic, I've been told I'm an idiot. I showed my brother the pictures and he immediately requested a Wolverine blanket, I promptly said no**. I got a bunch of compliments from friends, but none of the feedback I received was as heartwarming as the email I got from my customer.
Our window to leave feedback on etsy expired, so we couldn't officially tell the etsy world of our experience with each other. I tried emailing etsy to give it back so I could exclaim my adoration for my new favorite customer, they shot me down… mean. I made her these gratitude gifts on the Sunday before I shipped her package. I love it when I have time to make gifts for customers, I haven't been able to do it in months.
I originally had no plans to add Harley Quinn to my shop, but after the adventure we had together I'm thinking about it. It would be a shame to waste all that work. What do you guys think?
_________________________________________________________________________________________________________
*More pictures can be found, here.
**I'm currently not accepting requests for custom blankets. I really have to start those wedding crafts, only 2 months left to make the bouquets, boutineers and decorations. Oy.